Paddling Puppeteers at Wye Marsh
Clap, sing, and groove along with the Paddling Puppeteers Puppet Show at Wye Marsh, then meet one of our Animal Ambassadors!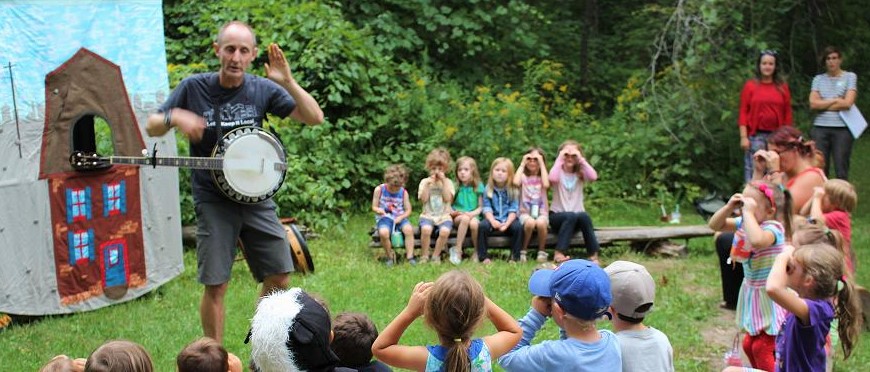 Join fun friends for a nature themed, whimsical afternoon - complete with meeting one of Wye Marsh's Animal Ambassadors like Sonic the Snapping Turtle or Axel the Eagle Owl! There will be two interactive shows over the afternoon. Paddling Puppeteers have performed across the province at National Parks, Provincial Parks, schools, and more. The characters are well loved - meet them for yourself!
As part of the show, one of our Animal Ambassadors will make an appearance to meet you and talk about the importance of taking care of our environment!
Showtimes:
Where: Wye Marsh Wildlife Centre
When: November 16, 2019 @ 1:00pm & 2:30pm
How much: $7.50 + hst. Price includes access to Wye Marsh trails for the day!
Who: All ages!
What a great deal - access to Wye Marsh's trails PLUS an amazing show for a discounted rate of only $7.50!
Buy your Tickets now!
Tickets are available online below, or at Wye Marsh on Saturday! There are only 50 tickets sold per show.

About the Paddling Puppeteers:
The Paddling Puppeteers have been performing their musical puppet shows across Canada since 1999. A variety of colourful puppets bring to life many stories having to do with the environment. The shows present ideas of how we can take simple steps to preserve and restore Canada's natural heritage.
The Paddling Puppeteers have seven different puppet shows with themes all related to Canada, its natural history, and the simple steps we can take to preserve and restore this beautiful country. All the shows are musical and interactive.