Survival Camp
Ages 10 - 14
At survival camp, campers will learn what it takes to survive in the wilderness. Half of each day will be devoted to honing campers' survival skills; constructing shelters, navigating by compass, identifying flora and fauna, learning to light a fire and much, much more!
The rest of the day will be spent enjoying some of our classic Wye Marsh Day Camp activities; hiking the extensive network of trails, learning about birds, reptiles and amphibians through live animal demonstrations; paddling the channels of the Marsh; and so much more.
At the end of the week, campers will have a chance to put their new knowledge to the test in a final survival challenge.
---
Registration now OPEN!
Download a PDF version of our registration form by clicking on the link below:
Save the date: Survival Camp - July 16th-20th 2018 & August 6th -10th 2018
---
Survival Camp Availability
The weeks listed below are currently full or have very limited availability (i.e.only one spot left). Please fill out our waiting list form (see below) in the event that your desired week(s) is listed below.
Survival Camp Week #3 (July 16-20) - now full!
---
Survival Camp Waiting List
Please note that a seperate waiting list (found on each camp's page) will need to be submitted for each type of camp that we offer.
---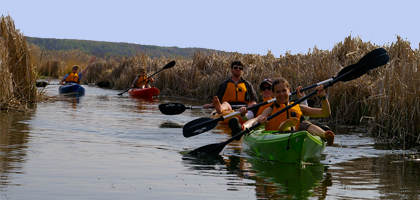 For Survival Camp Parent Information Guide click HERE
Survival Camp Fee -
Annual Member: $130/wk
Non-Member: $200/wk
Early Care (EC) 8:00am – 9:00am $5.00/day
Late Care (LC) 4:00pm– 5:00pm $5.00/ day
*To recieve the member discount on camp fees the child registered for camp must be named in an annual family or annual grandparent membership. To learn more about becoming a Wye Marsh Member visit our Membership Page
---