Turtle Nest Cages
Turtle nest cages help protect vulnerable eggs from predation - and help Ontario's turtle populations grow!

What are Nest Cages for?
Turtle nest cages help to protect the newly laid turtle eggs from predation. Turtles dig holes and lay their eggs underground but predators are still able to find these nests through their sense of smell. Turtle cages are designed to protect turtle eggs from predation when they are most vulnerable.
Why do Eggs Need Protecting?
Many common wildlife species such as raccoons, skunks and foxes can entirely destroy a turtle's nest. Increase in the predator pressure, due to their ability to better adapt to city life compared to turtles, puts disproportionate pressure on our slow growing, low fecundity turtle species.
All of Ontario's native turtle species are considered a Species at Risk. With their slow reproductive rate and high hatchling mortality rate, these species are very slow to recover from any loss to their population. Properly protecting nests and eggs from predation can greatly impact the species' recovery rate.
Turtle Nest Cage Fabrication:
For a downloadable PDF step-by-step instruction sheet, please click here.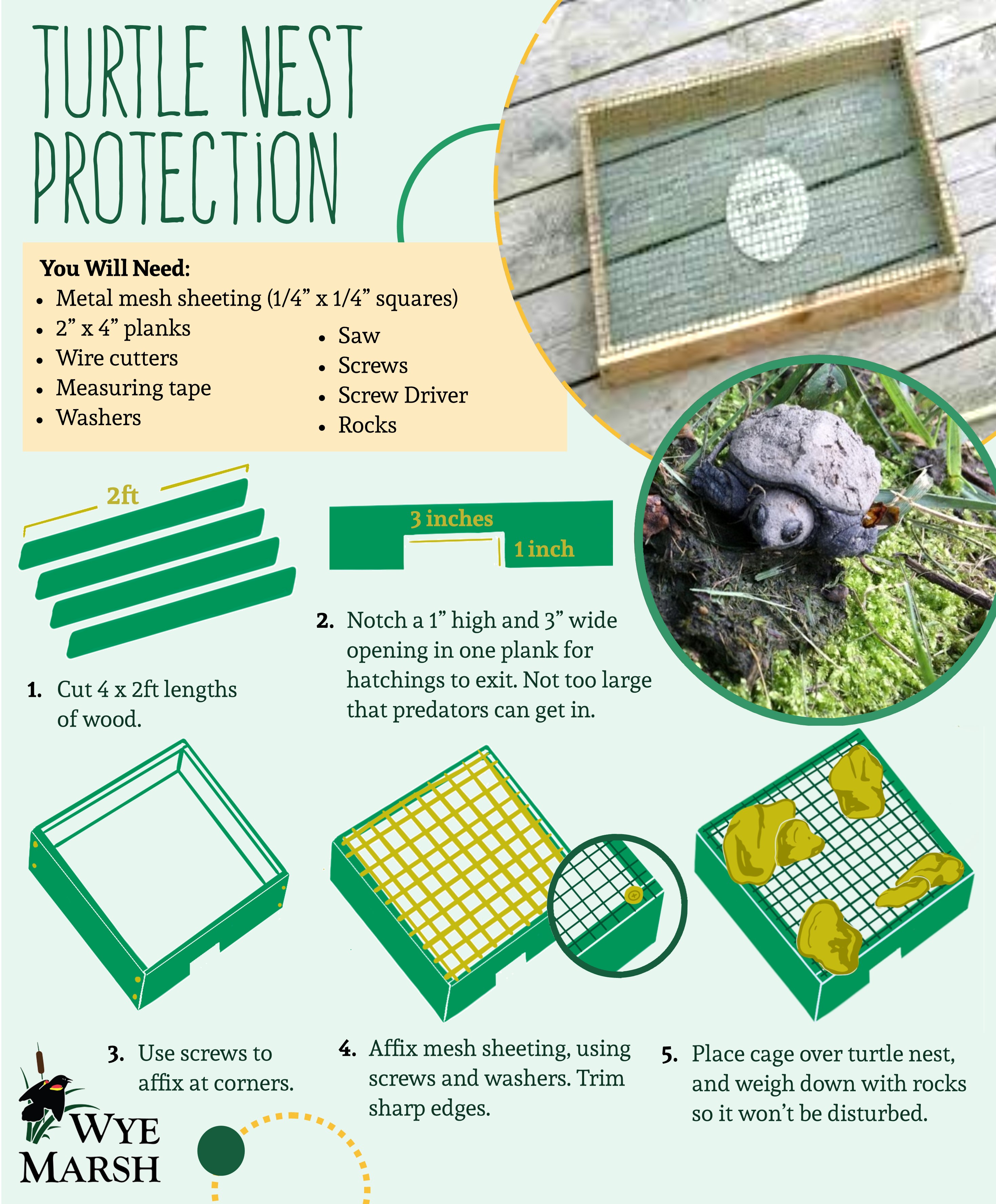 Fabrication Tips:
Lightweight construction to easily carry to nesting site.
Nest cage should be weighted down rather than held in place using stakes because nests are very dense. underground and you don't want to disturb/ damage them.
For more information from the Canadian Wildlife Federation, click here.
Dos and Don'ts of Placing Your Nest Cage:
Leave nest cage in place until late October, and remove prior to winter. If the nest cage is high traffic traffic area such as a driveway, the cage can be removed after about 2 weeks.
Make sure you don't attract predators such as raccoons and skunks to the nest area.
Respect the welfare of the animals and do not handle them.
Avoid destroying or disturbing surrounding habitat.
Watch, share and educate your family and friends on the incredible journey your nestlings are about to take.
Report locations to the Adopt-a-Pond or Ontario Nature App if you see a turtle. For more information, click here.