Snowshoe Ecotour
3 hours, 4 kilometers, woodlands & wildlife!

Experience areas of the Wye Marsh that are otherwise not open to the general visiting public! After a brief lesson on the art of snowshoeing, you will head out in search of the many mysteries that animal tracks & signs present. Hungry chickadees that like to eat right out of your hand will follow you along the trail! Warm up by the fire for a snack break with hot chocolate and tea along the route.
No snowshoeing experience required, but please note that the trail conditions are considered moderate and at times 'off the beaten path'.
Where:
Wye Marsh Wildlife Centre
Times:
Saturday Ecotours run 9:30am- 12:30pm, Sunday Ecotours run 1:00pm-4:00pm.
Dates:
January 22, 23, 29, & 30 + February 5 & 6, 2022
How much:
$65 per person
Snowshoe rentals are provided - or bring your own if you prefer. Price includes admission to our interpretive centre and trails for the day!
Who:
Participants aged 12 +. Please leave your pets at home for this experience.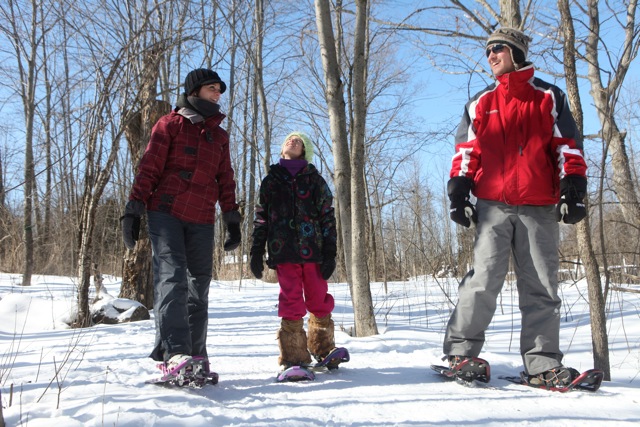 Pre-registration is required.
Please register using the PayPal links below. Please note that you do not need a PayPal account, you can simply "check out as guest". If you have any questions or require further assistance, please contact 705-526-7809 or events@wyemarsh.com.
Cancellations can be made with 48 hours notice. Please call us at 705-526-7809 if you need to cancel or re-schedule your experience.
If you have any questions about your upcoming Ecotour, please contact reception at 705-526-7809 ext 200
If you wish to book a Private Snowshoe Ecotour, available Wednesdays-Sundays throughout January and February 2022, please contact programs@wyemarsh.com to arrange your date, time, and party size.
Register Now!
Saturday, January 29, 2022 - 9:30am- 12:30pm
-
Sold out!
---
Sunday, January 30, 2022 - 1:00pm - 4:00pm
- Sold out!
---
Saturday, February 5, 2022 -9:30am- 12:30pm-
Sold out!
---
Sunday, February 6, 2022 - 1:00pm - 4:00pm-
Sold out!
---
Saturday, February 19, 2022 - 1:00pm - 4:00pm-
Sold out!