Snowshoe Ecotour
3 hours, 4 kilometers, woodlands & wildlife!

Experience areas of the Wye Marsh that are otherwise not open to the general visiting public! After a brief lesson on the art of snowshoeing, you will head out in search of the many mysteries that animal tracks & signs present. Hungry chickadees that like to eat right out of your hand will follow you along the trail! Warm up by the fire for a snack break with hot chocolate and tea along the route.
No snowshoeing experience required, but please note that the trail conditions are considered moderate and at times 'off the beaten path'.
---
Book Your Private Tour Now
Choose a date and time that works best for you. The price to pick your own date is the same, $65 per person with a minimum of 3 participants with a maximum of 9 people (during COVID). To arrange a private group, please contact Wye Marsh at 705-526-7809 ext. 220 or emetcalfe@wyemarsh.com to arrange for alternative dates that best work for you!
---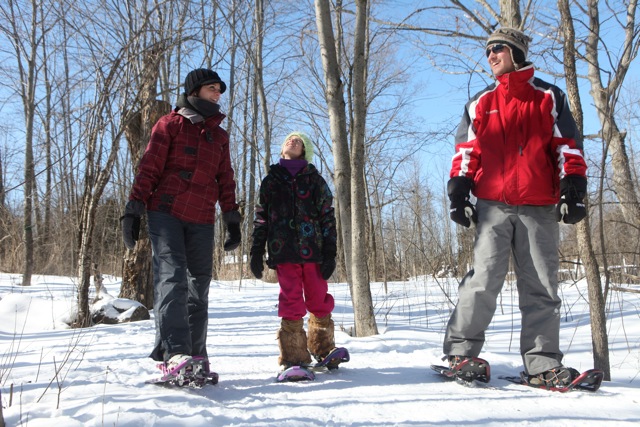 Where:
Wye Marsh Wildlife Centre
When:
2020's open tours are done. Stay tuned for 2021's dates or book your own tour with a minimum of 3 partipants while there is still snow!
How much:
$65 per person, snowshoes provided - or bring your own if you prefer!
Pre-registration required.
Online registration below through PayPal. You do not require a PayPal account - simply purchase using VISA/VISA Debit or Mastercard as a 'guest'.
---
Cancellations can be made with 48 hours notice. Please call us at 705-526-7809 if you need to cancel or re-schedule your experience. Participants must be at least 12 years of age; please keep your pets at home.
Please call us at 705-526-7809 if you require assistance with your registration.