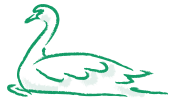 Trumpeter Swan Sightings
Tracking the health and movements of the Trumpeter Swans is very important to the restoration program.
Many of the Trumpeter Swans in Ontario are leg-banded with a metal band and identified with large plastic yellow wing-tags with a three-digit code on it.

Wye Marsh records the Trumpeter Swan sightings, and reports the collected sighting information to the Trumpeter Swan Restoration Program volunteers to be entered into a database. This information is used in order to help estimate the population size, determine their range, track genealogy, and keep track of patterns in migration.
If you see an injured or distressed Trumpeter Swan, please email info@wyemarsh.com or call 705-526-7809 to report your sighting.
If you have concerns with the health of any wildlife, including Trumpeter Swans, you can also reach out to a local MNDMNRF (Ministry of Northern Development, Mines, Natural Resources and Forestry) representative to expose unlawful actions, and wildlife rehabilitators for their medical treatment and rescue. Please call 1-877-847-7667.