Birthday Parties
Escape, explore and experience the best of nature at your next birthday party!

Nuts for Nature Birthday Party Package: $300.00
Up to 12 children and 4 Adults. Additional partiers are $8.00+hst each
3 hour room rental for snacks/presents/cakes etc.
Access to all hiking and snowshoe trails for all participants for the duration of the party
2 hours of Nature Based Programs
20 min set-up/tear down time
---
Nature Programs
Please choose 2 hours of Nature Programming for your birthday party! Unless indicated otherwise:
listed programs are one hour in length
appropriate for all seasons
included in party fee with no additionals fees. Premium programs are indicated as (Premium) and have an additional $50 fee for each chosen
Exciting new programs are listed below!
---
Programs For 6yrs & Under:
Animal Games- Get your little ones engaged with nature through active, and fun games. We will play a variety of nature-based activities and learn about ecosystems, animals and more!
Rockin' Reptiles (Premium) –Get up close and personal with one of Ontario's native turtle species. Your little ones will learn plenty of fun facts and identification tips, play reptile themed games and activities, as well as explore their role in helping Ontario's Species at Risk.
Bannock Buffet (Premium)- Let's gather together around the campfire. We will experiment with new Bannock flavours of their own invention by mixing in their choice of dried herbs, mint, cocoa or cinnamon; and toppings such as honey, maple syrup, or chocolate sauce. You can bring hotdogs to roast too if you like, and play circle games like spooky tales, 'broken telephone', 'finish the story'.
Programs For 7yrs & Up:
Ultimate Survival - This exhilarating simulation game demonstrates the interactions between predator and prey species, as well as the encompassing ecosystem. Taking on the role of carnivores, omnivores, and

herbivores, participants will be challenged to obtain their specific survival needs as they navigate through a forested environment, all the while evading predator species bent on stealing their lives.

Shelter building – Shelter building allows the participants to engage with nature and each other, all the while learning about survival skills. Form teams and compete in the shelter building challenge to create the best shelter.
Archery – Fun for the camp and survival enthusiast. Youth will have a quick lesson, and some target practice, followed by games and a competition (if they like). Our arrows are foam capped so even the younger ones can learn to use a bow& arrow safely.
Cross-Country skiing (Premium) – 2 hours December to March- or as snow allows- A great way to introduce a new relaxing sport for winter enthusiasts, and those looking to expand their snow-embracing activities. Snap on some skis, learn the basics and journey into the woods to explore the crisp nature of winter and a quick hot cocoa break.
Wet n' Scaly (Premium)- Get up close and personal with some of Ontario's native turtle species. Participants will learn plenty of fun facts and identification tips, as well as discover the importance of environmental stewardship and the role that they can play in helping Ontario's Species at Risk.
Bird Introductions, (Premium) -Meet one of our animal ambassadors! Learn everything about them, from their favorite food, the story of how they came to Wye Marsh, amazing adaptions, special conservation concerns, how you can help the species, and their quarky personality. You will even be able to take unique pictures with them for your birthday! Unfortunately, you will not be able to choose your bird, this choice is up to the animal care staff's discretion and is based on each birds' individual personality and how they are feeling that particular day or season.
Bannock specialist (Premium)– 2 Hours Bannock has been a staple food of wilderness explorers for centuries. Portable, nutritious, tasty, and easy to make, Bannock's legendary reputation continues as one of the best wilderness survival foods there is, not to mention a fun and engaging mid-day snack. Together we will mix the Bannock ingredients, learn to build a fire then roast your creation!
Snowshoeing (Premium) – 2 hours. December to March, or as snow allows. With traditional style snowshoes, participants will head out into the snowy-covered landscape to discover the many wonders that winter has to offer. Games and nature-based activities make this a fun-filled program.
Marsh Exploration By Canoe. (Premium) May – October. maximum 16 participants and $50.00 for each additional canoe of 7 participants. - There is no better way to explore the Wye Marsh ecosystem than seated among friends in one of our voyageur style canoes. After a brief lesson on paddling technique and canoe safety, participants will paddle past blooming water lilies, basking turtles, leaping frogs, and a beaver lodge.
Programs For Every Age: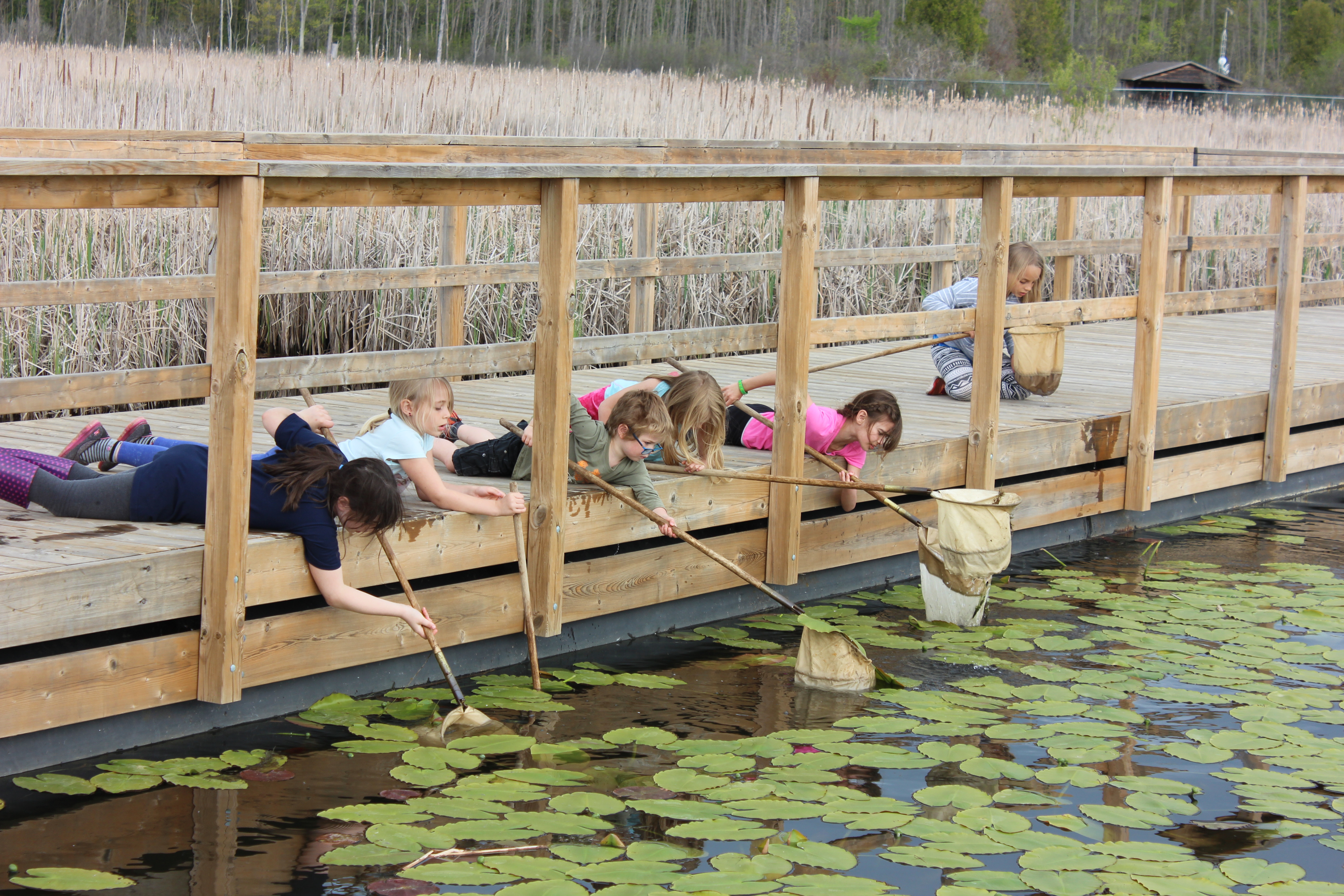 Dipnetting .May – October.-With dipnets in hand, kids will learn about the many amazing adaptions of some of the aquatic insects that live at the Wye Marsh. Learn about the interconnectedness of all the marsh inhabitants as well as exploring the surrounding habitat by foot.
Discovery Hike - Perfect for any age! Let one of our Outdoor Naturalists take you for an interpretative walk to visit the Swan Treatment Centre, the Observation Tower, and the Floating Boardwalk.
Wetlands & Watercolours -Engage your creative side and explore the marsh through art! Colour theory is not required, just bring passion and enthusiasm as we watercolour anything from the tiny beetle to the vast landscape.
Animal Tracking – 2 Hours. -Designed to kindle awareness and understanding of Ontario's winter-active mammals, this program focuses on identifying animal tracks and scats, as well as animal adaptions, behaviours and their survival techniques.
Build -a- Conservationist (Premium) -The blooming environmentalist can try their hand at creating something to help the planet on their special day! Choose from a bird feeder, bee hotel, or toad abode, create them in the party room, and each youth gets to take theirs home after the party. Please choose one of either the bird feeder, bee hotel or Toad Abode for your group.
​
For more information please contact Ede Priske
epriske@wyemarsh.com
---
Request a Birthday Party!
Please fill out the Birthday Party Request Form below with as many details as posible. We will be in touch with you within 3 business days.
*Please note that a 50% deposit is required to confirm your Birthday Party reservation. Once we are in contact with you regarding your booking details we will send a link to pay your deposit.