A History of Conservation
Originally native to Ontario, the Trumpeter Swan's extirpation from eastern Canada over 200 years ago was primarily due to hunting pressure and habitat loss.
Biologist Harry Lumsden began a provincial reintroduction program in the early 1980's to re-establish the Trumpeter swan in its former habitat and range.
With prime wetland habitat, and archaeological evidence confirming the historical presence of Trumpeters in the Wye Valley, Wye Marsh Nature Centre became a co-operator in the restoration of this magnificent species in 1989. The original captive breeding pair of Trumpeters at Wye Marsh were "Big Guy" and "Lady Girl", who successfully raised the first cygnet in 1990, "Pig Pen". In 1993, Pig Pen and her mate became the first wild nesting pair of Trumpeters in Wye Marsh in over 200 years.
Due to overhunting, Trumpeter Swans were extirpated or locally extinct in Ontario by 1886, and globally were listed as a Critically Endangered species.
The introduction of the Migratory Bird Treaty Act of 1918 helped to prevent many migratory bird species from being hunted.
In 1959 a previously unknown population of Trumpeter Swans were discovered on the West Coast of North America. This population assisted greatly in improving genetic diversity within the Ontario Trumpeter Swan Restoration Program.
Ontario's restoration efforts began in 1982 by Harry Lumsden. Breeding pairs and relocated eggs were hosted by cooperatives with large ponds and wetlands to raise cygnets. These raised cygnets were then released into the wild.
In 1988, Wye Marsh received the breeding pair 'Big Guy' and 'Lady Girl'. Their female cygnet 'Pig Pen' became an ambassador for the Trumpeter Swan Restoration Program. This pair has introduced over five generations of wild swans.
Over several years, 574 cygnets were released around Ontario. Wye Marsh, one of the largest release sites, and the coastal wetlands along Georgian Bay proved to be ideal habitat.
To measure the success of the program, cygnets are banded and tagged. Parents, siblings, age, and sex are recoded at this time. Over 2,250 swans have been tagged to date.
In 1996 the status of Trumpeter Swans in Canada was re-examined and changed from Species of Special Concern to Not at Risk.
In 2015, the North American population was estimated to be 63,000, with 1,500 in Ontario.
In 2020, the Ontario population was estimated at 2,000 individuals and continues to increase annually.
Today, Wye Marsh Wildlife Centre is committed to the continued protection of the species and the Trumpeter Swan Monitoring Program. This program helps track Trumpeter Swan populations through sighting reports and uses leg banding and wing tags to identify individuals. Banding allows researchers to study population dynamics, genealogy, mortality rates, morbidity (disease occurrence) rate, and hatchling /fledgling success rate statistics. If you would like to be a part of this progam, please email info@wyemarsh.com for more information.
Thank you to the dedicated volunteers and environmental programs
that made this reintroduction a success.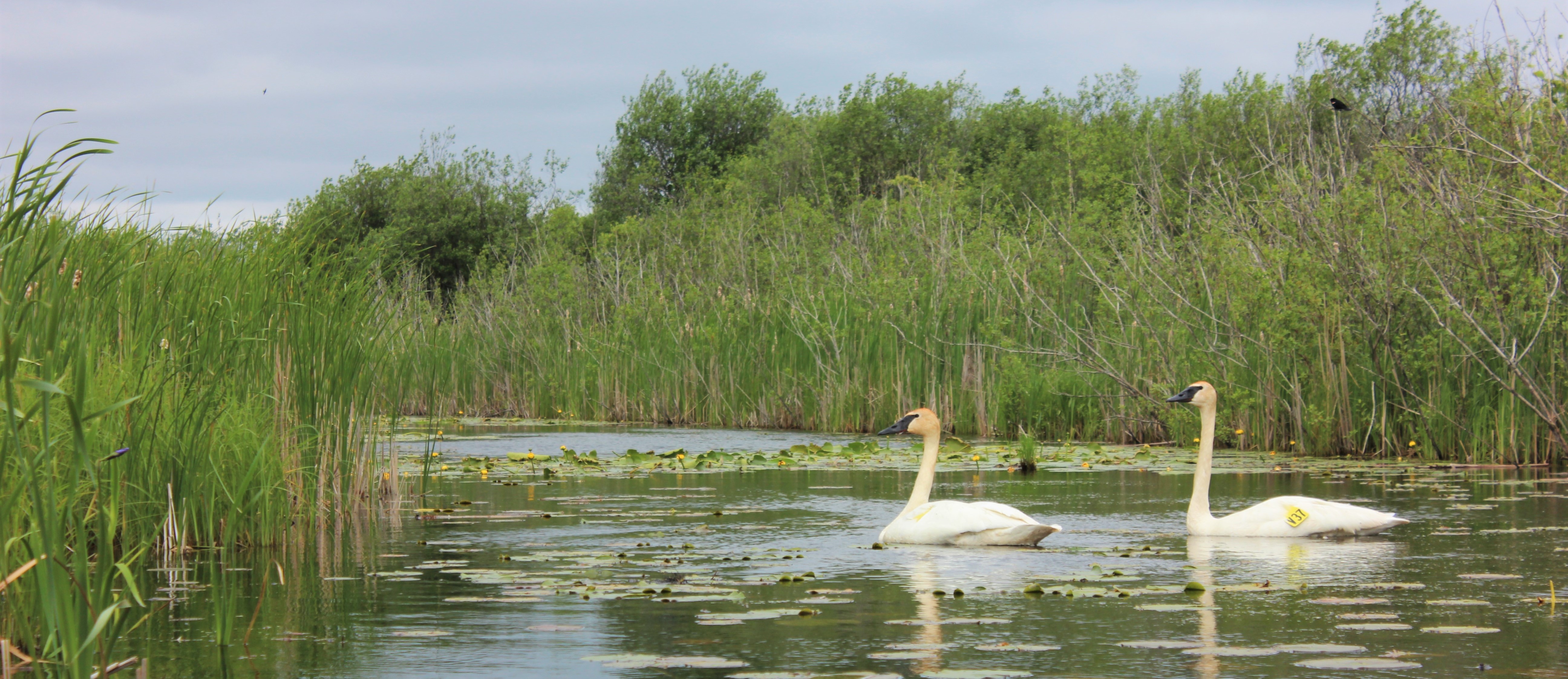 A Tribute to Pig Pen
Pig Pen, tag #100, was a precocious Trumpeter Swan with a healthy appetite, who proved that a single swan can make a difference. It was evident from early on in her life that Pig Pen would be a swan to establish many important milestones in the Trumpeter Swan Restoration Program. It is for this reason that the Trumpeter Swan Rehabilitation Centre, now Swan Landing, is dedicated to her memory.
1990: Hatched at the Wye Marsh, Pig Pen was the first surviving cygnet of the Wye Marsh's original captive pair of Trumpeter Swans
1991: Released into the wild, with no parents to teach her, she learned to fly on her own
1993: First wild Trumpeter Swan to nest in Ontario in over 200 years
1993: Survived shotgun injury to her right wing
1993: Re-established the migration route of Trumpeter Swans in Ontario
2000-2001: Blinded in her right eye due to a bacterial infection
2001: Hit by a watercraft, which fractured her wing in two places
2001: After six months of treatment, Pig Pen succumbed to kidney failure
In her lifetime, Pig Pen laid 49 eggs and hatched 38! Her lineage is still known to this day. Today her migration route to Burlington, Ontario is used by many of the swans in the Wye Marsh and surrounding area.
A Picture is Worth 1,000 Words
Check out some photos of Trumpeter Swan conservation in action!