30th Annual Sweetwater Harvest Festival
2021 dates and festival status are dependant on COVID-19.
Currently, no dates have been set for 2021's Sweetwater Harvest Festival. For more information on Wye Marsh's response to COVID-19, please click here.

Celebrate a uniquely Canadian tradition
in a distinctively Canadian landscape.

Escape to a time when maple syrup was made over an open fire, experience our history and explore nature at its best. The festival celebrates the history of maple syrup, and the role it plays in our cultural and natural heritage.
Sweetwater is not your average maple syrup festival - it's so much more!
Beyond the sugar shack tours, pancakes and taffy tasting, there is so much more to the weekend long festival including birds of prey demonstrations, live music from local artists, kids games & activities, woodcarving demos; and of course chickadee feeding!

Admission
Adults: $10.00
Children aged 4-17: $5.00
1 Pancake Breakfast: $5.00
Members are FREE with membership card.
Please note that Sweetwater Harvest Festival is a cash only event.
---
Activities
So much to see, taste, and do indoors and out!
Click here to download our event brochure for activity details, a map, and info about the festival.
All Day Pancake & Sausage Breakfast ($5.00)
Maple Taffy Tasting
Local Food and Artisan Vendors
Kids Games & Animal Tattoos
Wood Carving Demos - get a personalized wood cookie!
Sugar Shack Tours
Horse Drawn Carriage Rides
Chickadee Feeding
Live Music from talented local performers
Meet the Creature & their Keeper - featuring Birds of Prey and Reptiles
Archery Range by Cabela's Outdoor Outfitters
For more detailed information and our FAQ's such as parking, admission, what to wear, and pets please visit our Sweetwater Harvest Frequently Asked Questions page.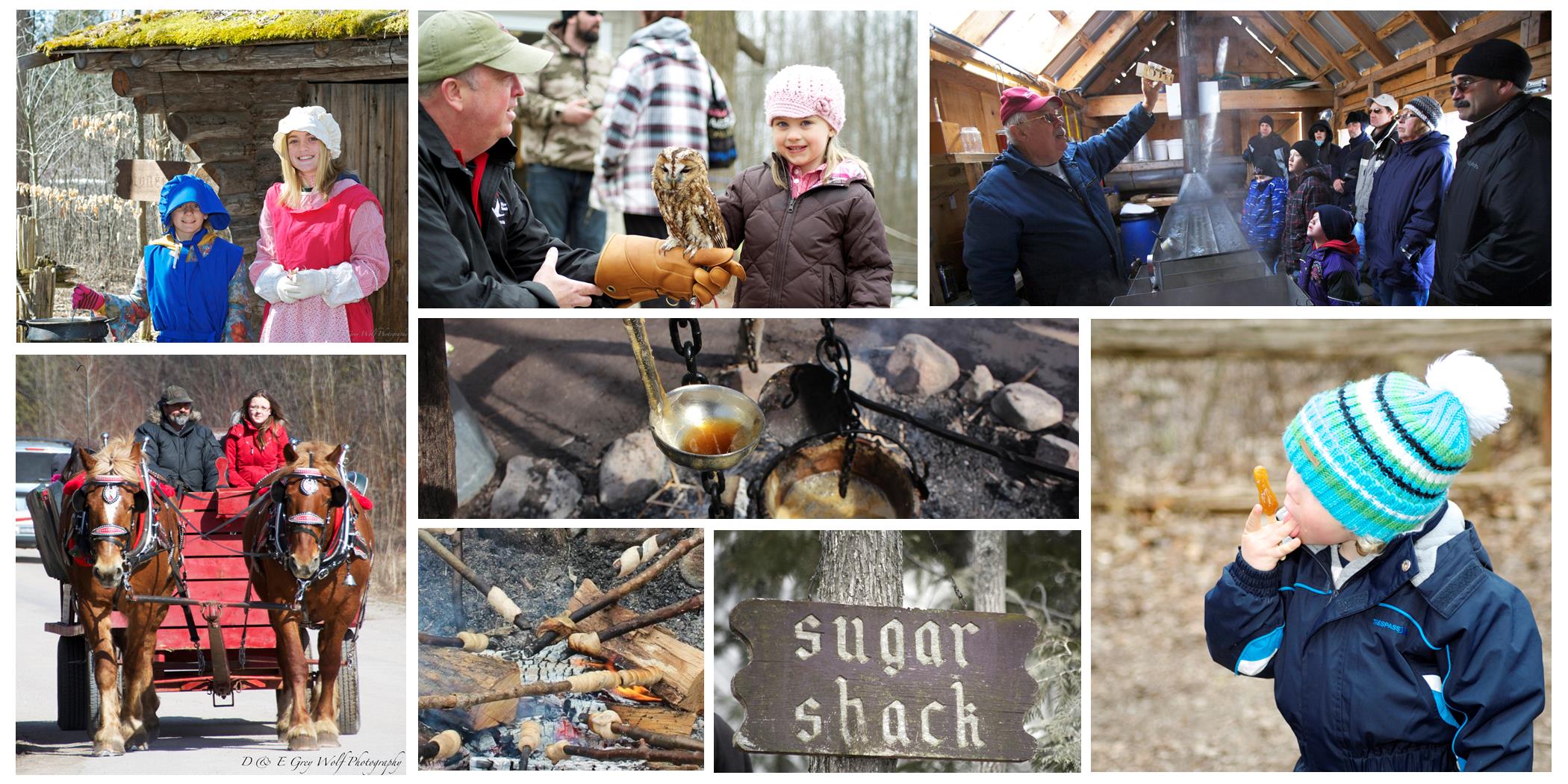 ---
2020 Maple Market Vendors
Be sure to visit both the outdoor & indoor maple markets to check out these amazing local artisans & vendors.
Northern Kettle Corn
Lady D's Honey (formerly Bonnie Bee Honey)
Tay Township Public Library
Wood n Stuff
MWords Photography
Better Life Chiropractic
Gypsy

Jewelry

Wye Marsh Woodcarvers

Association

Say Cheese

Face Painting by L.A. Face Factory & Body Art
Quench Soap
Dila's Kitchen
Pat the Woodcarver doing Demonstrations
Irisology Jewllry
Midland BIA
1st Moonstone Sparks/ Brownies selling cookies
The Chocolate House
---
Thank-you to our Sponsors 2020