Music in the Marsh: An Open-Air Fundraising Concert!
Let the sweet sounds of acoustic guitars, fiddles, and ukuleles lead you along the trails for a magical night at Wye Marsh.
Where: Wye Marsh Wildlife Centre
When: September 23, 2023 from 7-9 pm
How much: $ 25.00 per person + HST
Funds raised support trail maintenance, conservation projects and environmental education programs at Wye Marsh!
Limited space available. Please purchase tickets one Eventbrite using the link below.
And Please SCROLL DOWN to see our fabulous line up of artists!
---

French Canadian French Canadian Musicians: Ariko (The Lefaive Family)
The party ignites when ARIKO takes the stage! Homegrown in Lafontaine, Ontario, this family band features the rich vocal harmonies and dynamic fiddle stylings of the Lefaive sisters. Rooted in traditional French-Canadian music, Ariko's repertoire is coloured by zydeco, bluegrass, and popular genres. Their unique arrangements of traditional songs, original compositions and fiddle tunes are guaranteed to keep your toes tapping.
Le party prend feu dès qu'ARIKO embarque sur scène ! Originaire de Lafontaine, Ontario, ce groupe de famille fait rayonner les harmonies veloutées et les violons fougueux des sœurs Lefaive. Enraciné dans le style folklorique canadien-français, le répertoire d'Ariko est composé d'arrangements uniques de chansons à répondre, de compositions originales et de reels au violon qui vous feront taper du pied.
---

Bassist and Vocalist: Chas Laurie
While you can often find Chas Laurie performing with Kitty and the Boyz at Midland's Boathouse Eatery, this talented musician has played with an incredible assortment of artists and bands in the Greater Toronto Area. Chas toured Canada with Wild T and The Spirit, and Kenny Maclean. He once worked a 4 month stint in Dubai with Robbie Rae, and has opened for Suzi Quatro, Chaka Kahn and Deep Purple!
---
Georgian Bay Songbird: Emma Reynolds
Anyone spending summers around Georgian Bay will know songstress Emma Reynolds. A passionate musician, singer, dancer and actor, you can catch her performing at local special events and festivals. If you haven't seen her yet - don't delay. She's just released her first album, "No Looking Back" and this Sheridan College student is going places!
We are thrilled to have her join us at Wye Marsh for this special fundraising event.
---
Award-winning Artist: Nick Howell
Nick Howell is an award winning Rock artist, multi-instrumentalist, and composer of the best selling albums Traveller and We Will Go On. Working from his secret studio - a cabin located somewhere in the woods of Ontario - he hand crafts Rock & Roll, and performs wild concerts which are unlike anything rock audiences have experienced. Nick has committed his life to bringing people together worldwide through the power of music, and creating art to show that "Anything that can be imagined is possible."
---
Ukulele Queens: Northern Mockingbirds
These wonderful women with their ukuleles will take you on a trip down memory lane. From "Sentimental Journey" to "Da-doo-ron-ron", "After the Goldrush" and "Eight Days a Week", they'll have us all "Happy Together" at Wye Marsh.
---
We are grateful for the support of: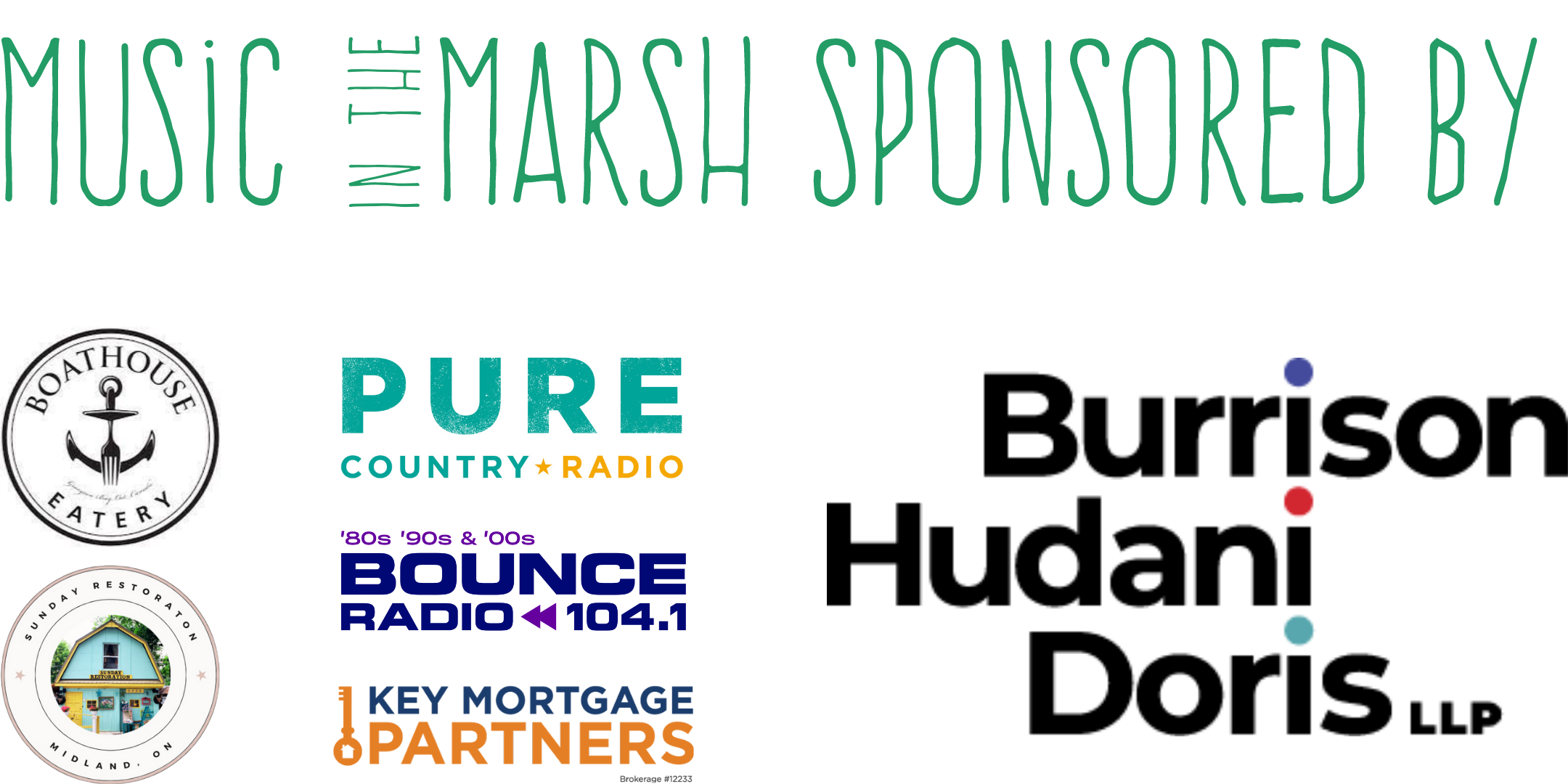 ---
Refunds only if event is cancelled due to extreme weather...
Refunds will only be issued if the event is cancelled by Friends of Wye Marsh due to extreme weather, trail closures, pandemic or other acts of nature. Notices will be posted on Facebook and our website.
https://www.facebook.com/wyemarshwildlifecentre