Christmas Bird Count for Kids!

Join us for a morning of activities designed to increase appreciation for citizen science and outdoor fun! Participate in a Christmas Bird Count for Kids (CBC4Kids).
What is CBC4Kids?
The Christmas Bird Count for Kids is a fun winter birdwatching event for kids and families. Learn about birds, connect with nature, and become a Citizen Scientist! Explore at home or Wye Marsh to begin a lifelong appreciation for wildlife and our environment.
CBC4Kids is a nationwide event coordinated locally by naturalist groups such as Wye Marsh throughout December and January.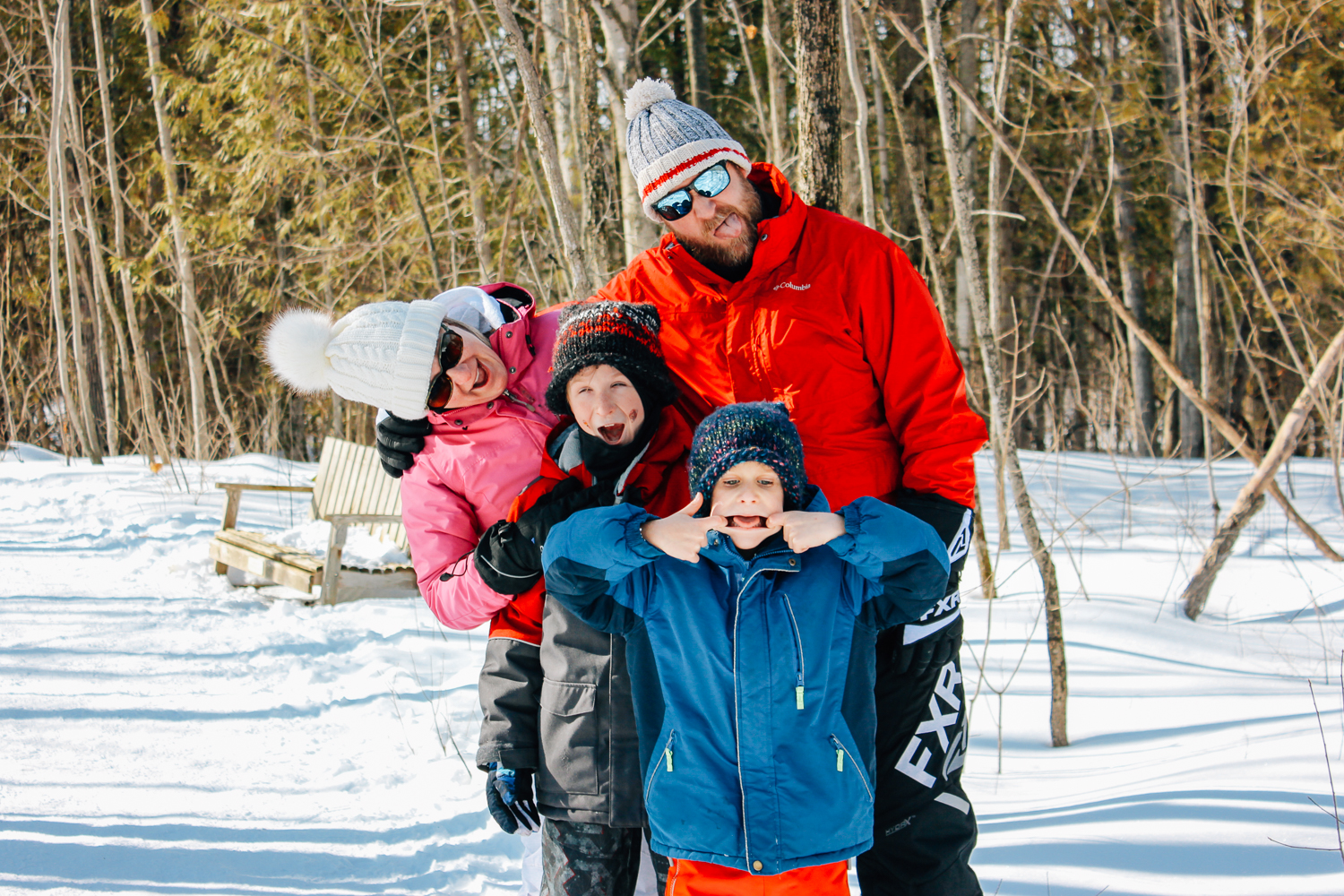 Where: Wye Marsh Wildlife Centre
When: 10:30am- 1pm on January 7, 2023
How much: Included with admission. Children (12yrs and under) free of charge and must be accompanied by an adult.
What to Bring:
Dress for the weather!
Any bird guides or binoculars you own (we will have some to borrow if you don't).
You can download ebird or iNaturalist apps in advance if you would like to learn more on how to use them.
A mug for a warm drink.
A smile and enthusiam to learn about our beautiful winter wild life!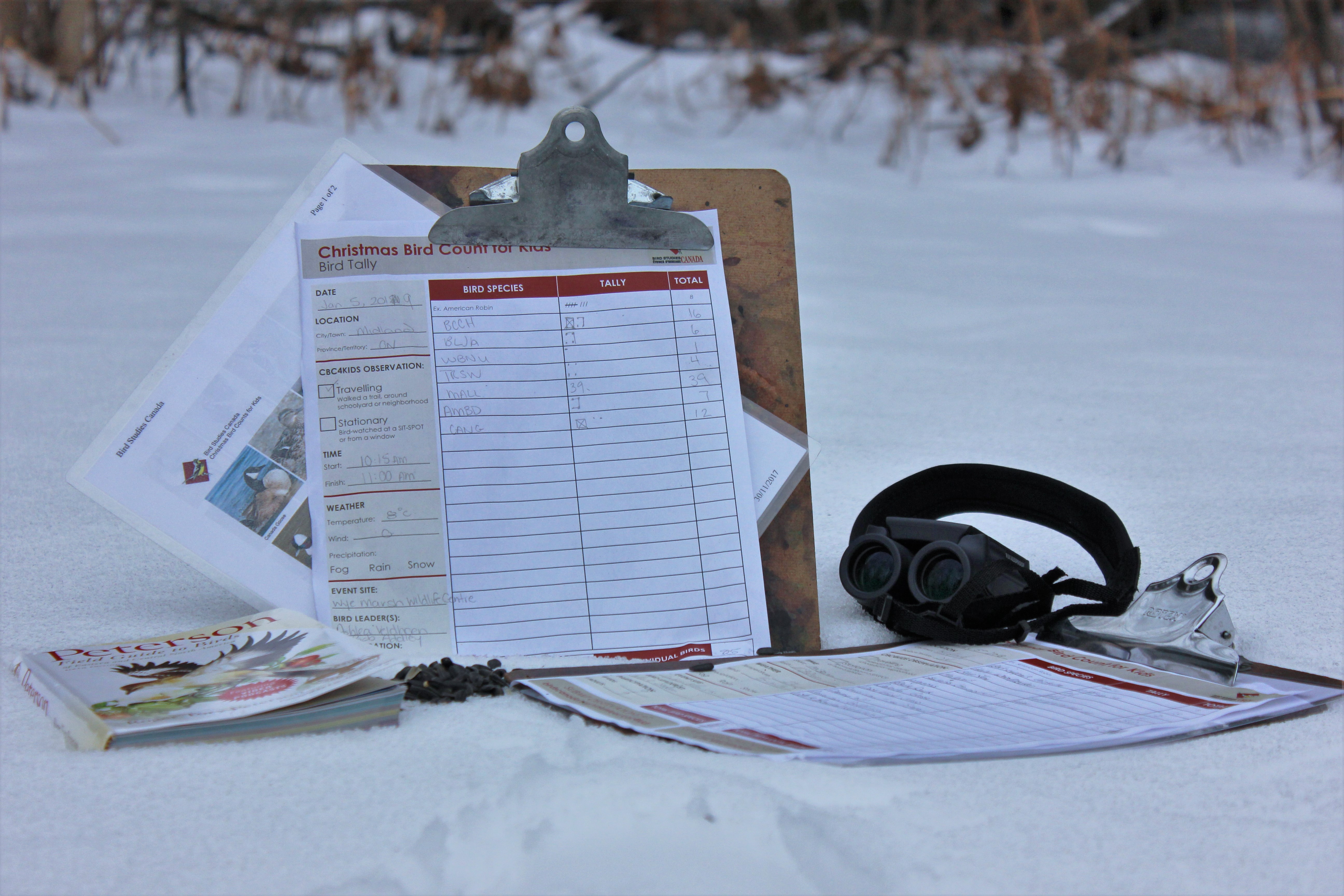 We will meet in the Wye Marsh Visitors Centre for an introduction and brief lesson on the joys of birding, Citizen science and the tools of the trade.
Based on skill level we will then hike and explore birds and birding, followed by a gathering around the fire where participants will be given the opportunity to close the circle over a hot drink and snack. Please bring your own mug.
---
Can't make it in person this year. No problem!
How to participate in CBC4Kids @ Home:
Christmas Bird Counts for Kids are recorded on a special tally sheet - where you keep a list of each species you spot, and tally how many birds of each species you see.
Click here for the CBC4Kids Tally Sheet:
​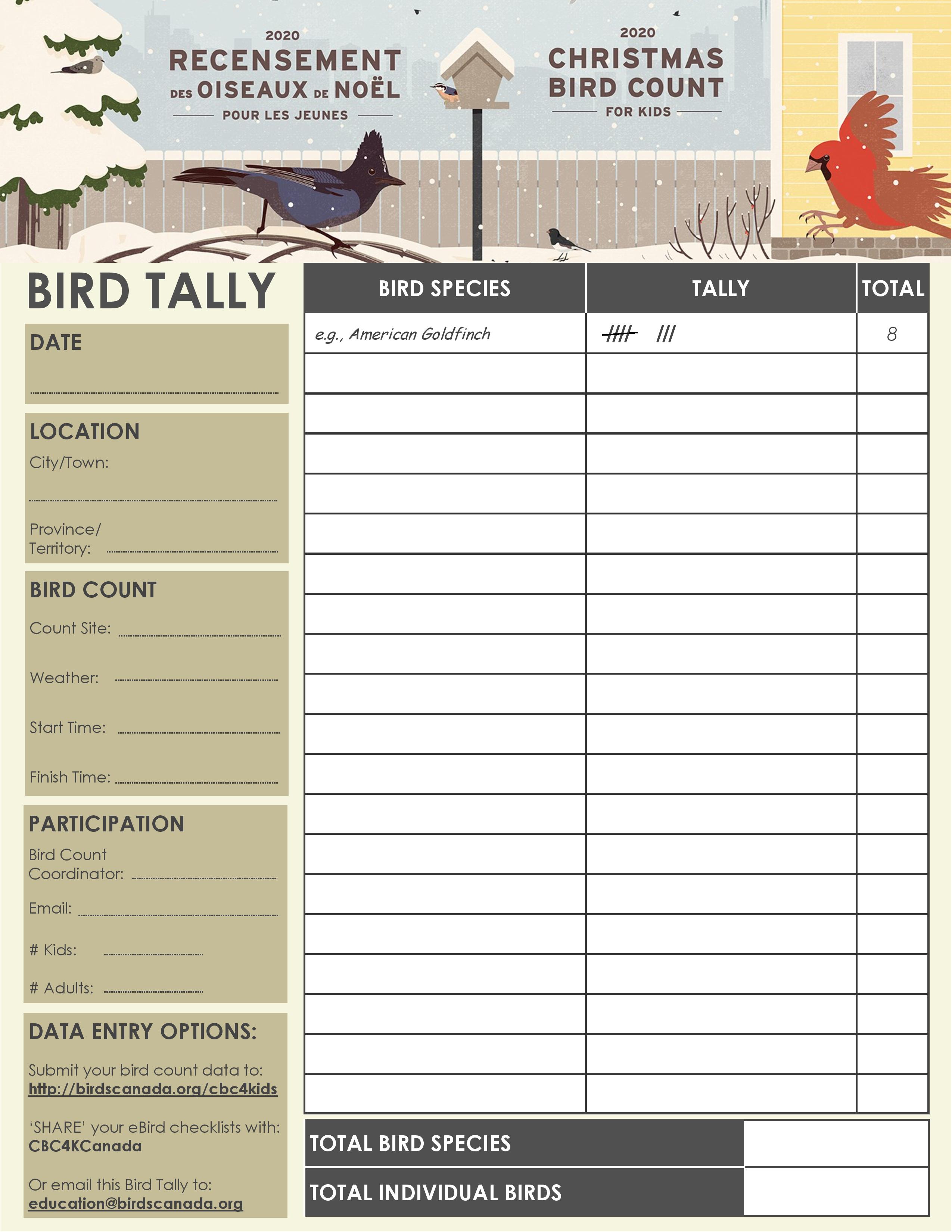 Birding Tool Kit:
Dress in layers to stay the perfect temperature while adventuring
Something to help you identify the birds you find: an app, a field guide, or print off this list: Click here for a list of birds you might see in Simcoe County
Binoculars or something to make the birds easier to see (no need for anything fancy)
Tally sheet and pencil or you can submit directly through the app
A smile and a sense of adventure
Birding Tips:
Be patient, birds can be illusive.
Learn different ways to ID birds - like by their sound, size, and shape. Check out this guide!
Try and keep quiet because birds can easily be scared away- sometimes you will hear the birds before you see them. Listen for the birds' songs and all of the sounds of nature.
Try using the shape of the bird rather than the colour to identify, especially when the lighting isn't perfect
See if you can learn some bird songs, you often hear them before you see them
Different birds will live in different habitats - some like forests, some like marshes, some like open fields. Think about what type of birds live in the habitat you are in.
Look for some of the signs that birds leave behind like woodpecker holes in trees or nests.
Try staying still and wait to see what movement happens around you - do the birds fly from tree to tree?
If you would like to attract birds to your own yard, consider a bird seed or suet feeder.
Have fun!​
Learn more about the Christmas Bird Count:
Click to learn more about Chirstmas Bird Count for Kids OR watch this video. You can view 2019-2020's Season Summary here.
More birding activities for young citizen scientists:

---
Sponsored by Naturehood & Environment and Climate Change Canada.
Thank you!