Escape, Explore, Experience
The Wonders of Nature at the Wye Marsh Wildlife Centre
The Wye Marsh Wildlife Centre is located on 3,000 acres of wetlands, fen and forest in Midland, Ontario (in the Heart of Georgian Bay). The Centre includes an amphibian and reptile display hall, hiking, biking and skiing trails, canoeing and kayaking routes, an observation tower and boardwalks, birds of prey display, education classroom, event facilities, gift shop and Naturalists on staff.
We also offer families and individuals, community groups and teachers and students environmentally based educational presentations & tours through the Wye Marsh.
---
INVESTORS GROUP SUPPORTS WYE MARSH'S BOARDWALK CAMPAIGN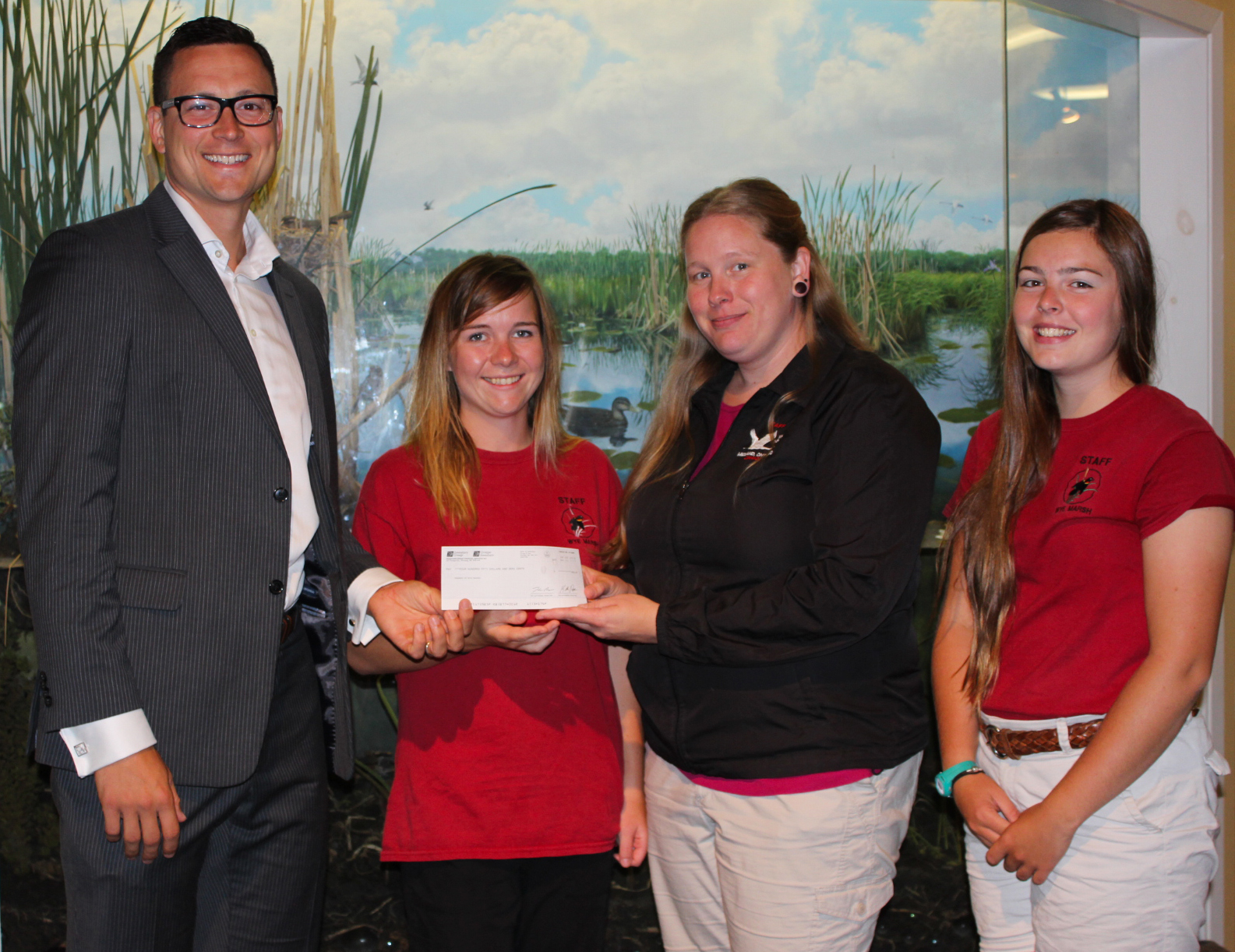 Tuesday August 26, 2015 – Midland, ON. Paul Larmand of Investors Group, Barrie presented a cheque for $450 to Wye Marsh in support of their current Boardwalk Campaign. The donation was made possible through the Investors Group Charitable Giving Program. Larmand, a long-time volunteer at Wye Marsh wanted to help the Friends of Wye Marsh with the project to replace the existing boardwalk since it starting sinking last year. 'We are grateful to Paul Larmand and the Investors Group for their generous donation. We have a long road ahead of us to raise enough funds to complete the project, but with community support like that of Investors Group I feel we can reach our target.' Sara Street, Wye Marsh Executive Director. To support the Friends of Wye Marsh boardwalk campaign please visit www.wyemarsh.com/donate

Pictured (left to right): Paul Larmand Investors Group, Wye Marsh Executive Director, Sara Street and Wye Marsh summer naturalists, Rebecca Huskinson and Katelyn West.
---

---

The Friends of Wye Marsh is a not for profit organization whose mission is to: 'Foster environmental stewardship'