Raptor Migration at Wye Marsh
12 Nov 2016
When either Katelyn or I speak to guests at the Wye Marsh about birds of prey, we have noticed that many are unaware of the massive migration of raptors that takes place each autumn. One only needs to spend time out in our bird field with Rusty, the Wye Marsh's resident Red-tailed hawk or Hannibal our Great Horned owl, to notice their far superior eyes scanning the blue abyss above, often pin-pointing wild hawks, falcons and the occasional eagle on their way south. In fact thus far in 2016 we have seen several Coopers hawks, countless Broad-wing hawks, four Northern Harriers, a Peregrine Falcon and three Bald Eagles from our little spot along the marsh's edge. And the migration isn't over yet!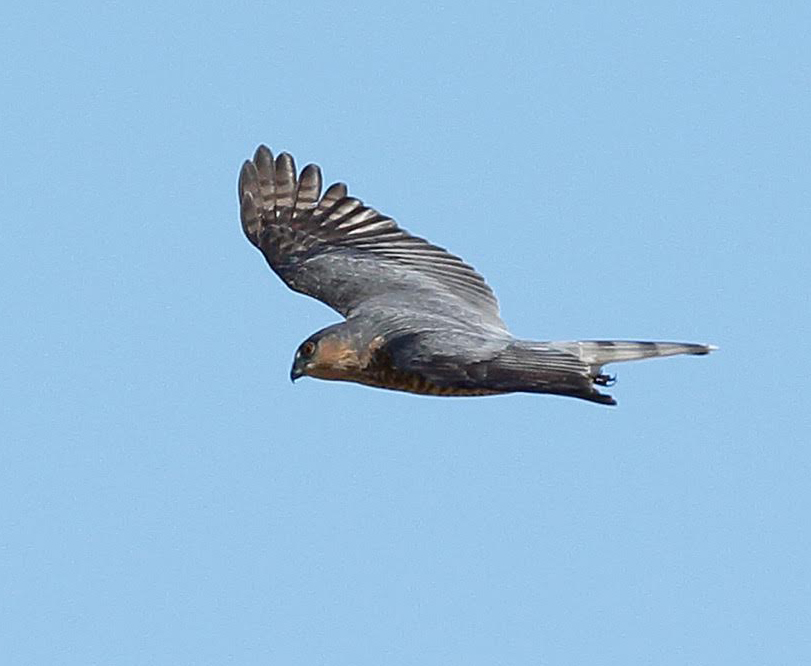 So for those who are just beginning noticing this annual event, allow me give an overview of what typically goes on around and through here each fall.
And So It Begins
Ontario Raptors, including hawks owls falcons and eagles, all tend to become less bound to their summer nesting territories come fall. It starts with the shortening days and early autumn winds of September. Then, many young juvenile birds of the year, some only fledged a few weeks before, begin wandering in search for food. Those that tend to prey on smaller migratory birds, like Sharp-shinned hawks, coopers hawks and Merlins, tend start the season off as they follow their prey on their migratory paths. Shortly thereafter the Broad-wing hawks, so common in the summer months here in Simcoe County, begin to gather in massive "kettles" of their kind. Their prey, primarily amphibians and snakes will also soon disappear underground and so when the September north winds begin to blow, groups numbering into the hundreds can be seen each September soaring in groups on their way to more bountiful habitat. As September fades and October starts to give us the cold shoulder, the waterfowl start their move south. Keeping pace with them will be the larger falcons like peregrines that depend on them for their food.
Many of the larger hawks and eagles begin to show themselves in November. Seeing them against the open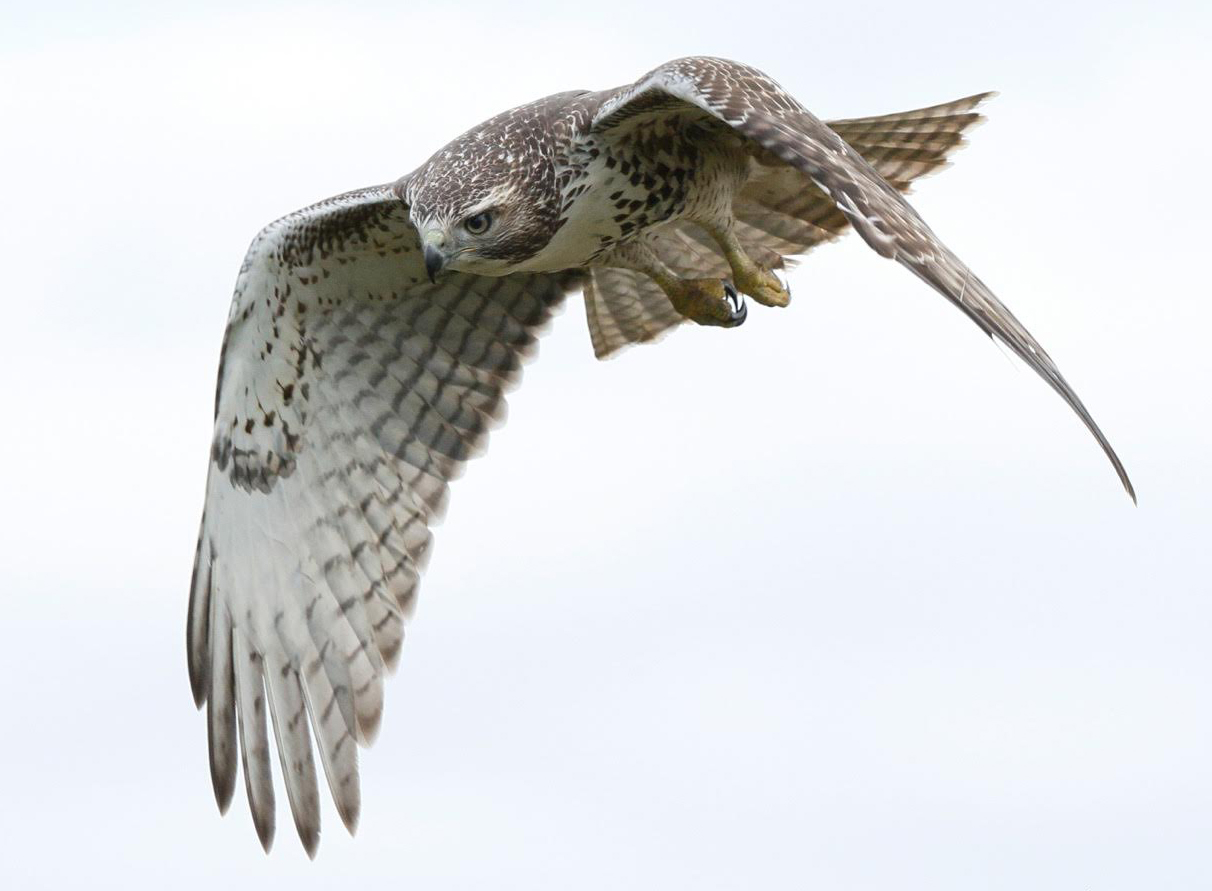 sky or the newly foliage stripped branches of trees makes spotting them easier. Some of these large raptors don't really migrate, but simply roam farther in search for game. Red-tailed hawks for example, particularly those young of the year and who are less bound to nesting territory, often move south towards the farm country of southern Ontario where less snow and open country makes finding game easier.
The Northern Movement
Owls, despite their ability to shrug off extreme cold winter weather, also make a move, often from their northern solitude right into Simcoe County. Often these visitors are unaccustomed to man and his structures and these owls turn up in odd spots like store tops, farm roofs or people's back yards. In fact during low cycle years of north rodent populations, downright invasions of Great Grey Owls, Northern Hawk Owls and the always striking Snowy owls can be seen throughout the area. Even in good rodent cycles, a few of each of these species tend to make the relatively balmy Simcoe County their winter residence.
Raptors are Birds Too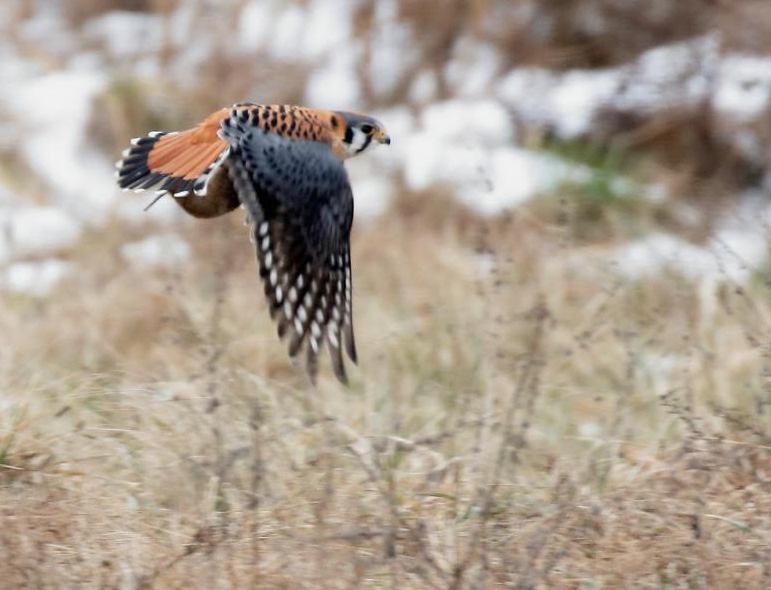 Now remember, there are always the exceptions to the rule when it comes to nature. Raptors occasionally don't read books or even blogs, so each winter an occasional oddball, who typically leaves these parts each fall, will chose not to migrate and instead stick it out around these parts. These brave or occasionally misguided individuals need our understanding when your bird feeder and the backyard birds that frequent them, is the best source of food around. Cut the raptors some slack. They are usually only sticking close to your feeder out of necessity. Truth be told, while they appreciate the food magnet you keep filling, given the choice, they would rather be finding their food elsewhere.
So as we head into winter, while those around you might be spending their time dreading the imminent cold and snow or stressing over the holiday chaos, keep your chin up, you might just be lucky enough to glimpse one of Ontario's raptors as they continue their constant struggle to survive in what to many of them is a foreign landscape.
By Tom Goldsmith - Raptor Trainer and Program Facilitator, Wye Marsh
Special thanks to Steve Dickson for the beautiful photos.